1.Look for Broken Backlinks
If your website has recently been through a big migration or experienced substantial structural changes, there is a good probability that there are some current backlinks referring to 404 pages on your website. This is particularly likely if the move was not done with SEO in mind.
In Ahrefs, go to the "Best by Links" report in the "Site Explorer" area to locate these opportunities. There, you may filter for backlinks that solely refer to 404 pages on your site. This set of URLs is ready for 301 redirects. Find existing pages that are most closely related to the material on the 404 page and perform a 301 redirect from the 404 URL to the identified existing page. This will not only improve the equity of your legit and status 200 pages, but it will also provide a better experience for the customers that click on such links. Exporting this list will give you a head start on creating a redirect list, which you can then provide to your development team to implement.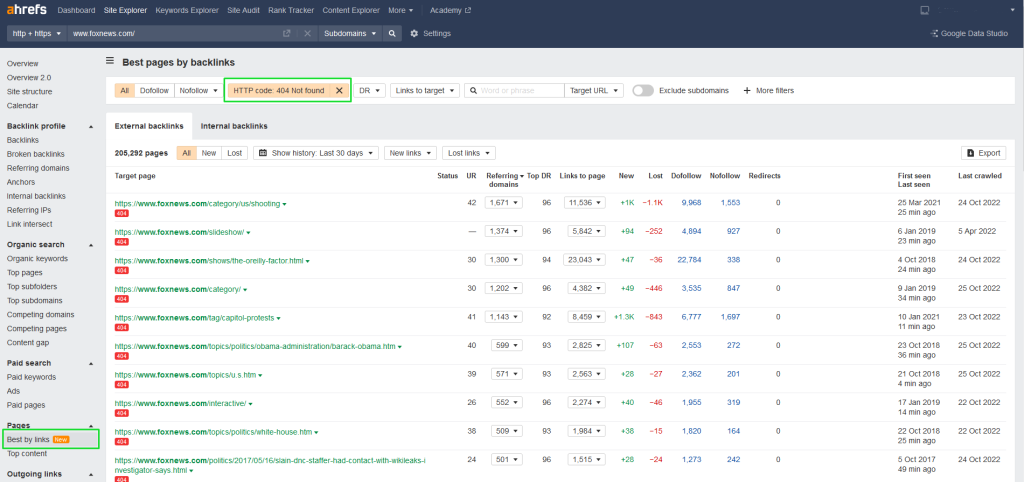 2.Determine the Seasonality of the Search
There are two volume choices here: monthly and average. The monthly graph illustrates if the domain's search traffic is seasonal or if the popularity of the terms it ranks for is increasing. The average volume will be more concerned with overall SEO exposure. As you can see in our example, "the competitor" (in this example, Foxnews) had a significant increase in organic traffic in November 2020. It will be fascinating to delve further to see if there is anything we can learn from them.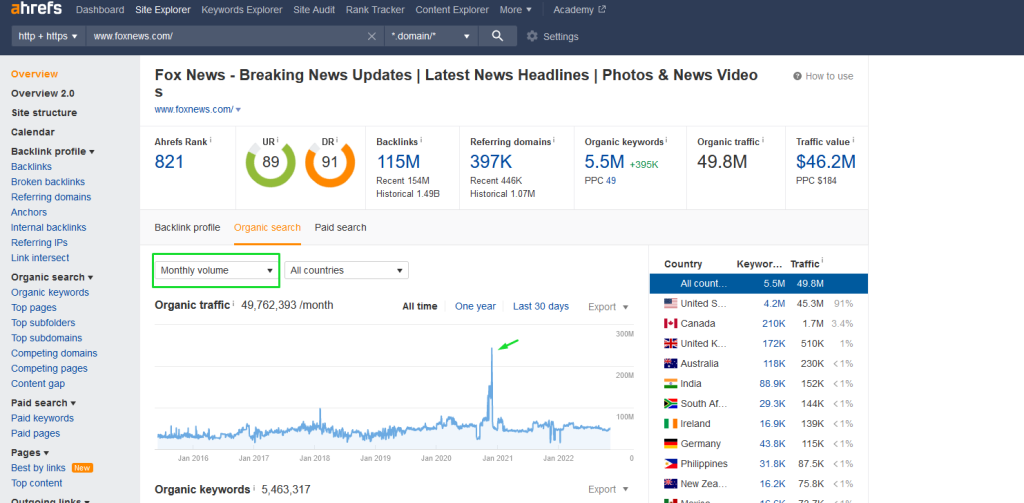 3.Look Through the Entire Ahrefs Keyword Database
Did you realize that by simply doing an empty search, you may access the whole Ahrefs database? Browse the top searches in the countries of your choosing, such as Czech Republic. Then, as a contemporary anthropologist, you may disclose what Google searches indicate about who we are. More seriously, it's a terrific approach for affiliate SEOs who are having difficulty finding fresh, intriguing topics. By experimenting with the filters, you may uncover search terms that you would not have considered otherwise.

4.Find Who Writes About You Without Including a Link
Whenever someone writes about your company or its products, they are providing themselves with a golden opportunity to include a link to your site. The truth is that not everyone does, but you have the power to alter that! You may identify all the sites that mention your brand without connecting to you with the aid of Ahrefs' "Content Explorer." Just type in your brand and turn on the filter "Highlight unlinked websites" to see which sites really connect to you and which don't.
You probably have a long list of sites that mention your company without providing a link to their own. Finding out who you should get in touch with is the only thing left to do now. Remember to explain why a link on their website would bring more value to the readers and enhance the user experience.
5.Check the Content Velocity of Your Competitors
This approach allows you to see how many pages your opponents have published in the previous month. You may examine their content velocity over time. Of course, don't only look at what your rivals are doing, also look at leaders in other industries!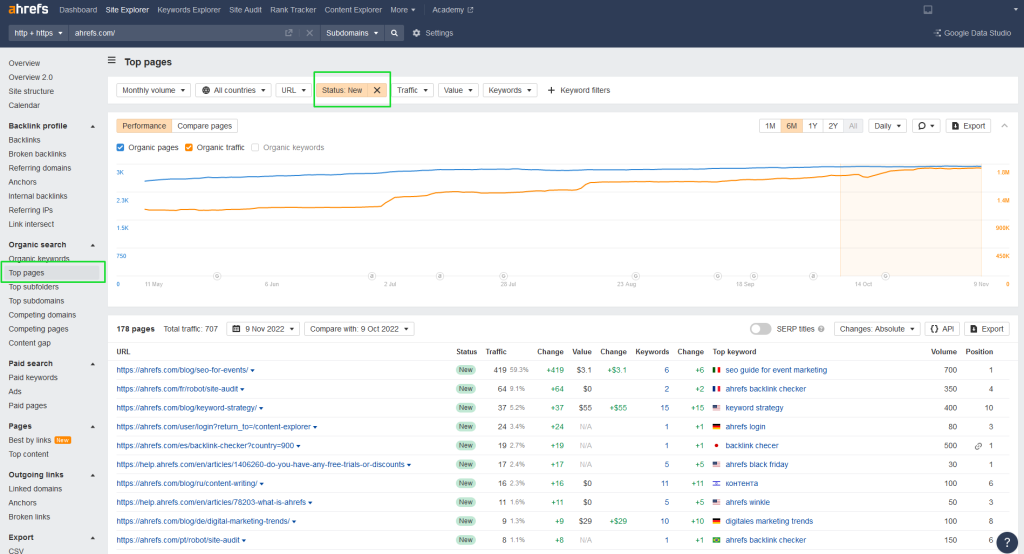 6.Analyze up to 200 URLs in One Click
Another valuable tool is the simple batch analysis tool, sometimes known as "Batch Analysis." This enables you to quickly examine data on a set of URLs. Once you're inside, you can start analyzing right away by pasting all of our URLs, one per line. There's a lot to learn from this report, but the most important takeaways are the total number of keywords, anticipated traffic, domain authority (DR), and referred domains.
In Conclusion
As we have seen, Ahrefs is a very important tool that may greatly assist us in a variety of circumstances that we may face in our work. As we have seen, this tool is much more than the sum of its parts, including the tips and methods I have shared with you. It also has an internal crawler, a very comprehensive backlink tool, and a third for doing keyword research. To sum up, it's a tremendous tool that is up there with Screaming Frog as one of our top choices. If you're serious about improving your SEO rankings, Ahrefs is an investment that will pay for itself many times over.